Starting today, the true craziness of the Las Fallas begins to unfold. From now until the end of Fallas, every single day will be celebrated with fireworks, dance, drinking and food. We went to see the Mascletà again but this time it was a totally different picture: it was crowded.
I like the colored smoke at the beginning – but this time the Mascletà suffered an early interruption, and was met with boos from the crowd. That means losing valuable points in the pyrotechnic competition. Every Mascletà is arranged by a different company and a winner will be announced at the end of Fallas.
It gets very smoky.
And above is where they shoot off the fireworks. Good thing it's fenced off — that wasn't the case up until a couple years ago. We heard a story about someone who was hit a piece of shrapnel.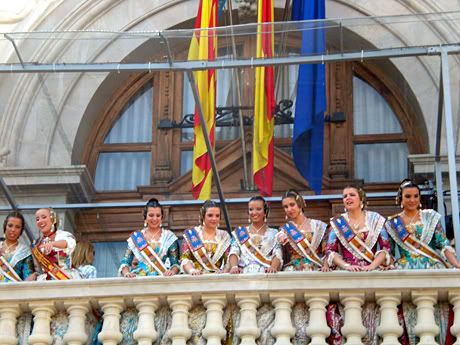 And here just a few cute Falleras of 2008.